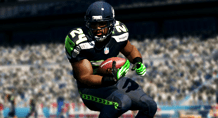 Madden NFL 19
EA hasn't officially revealed Madden NFL 19 yet, but the launch date for Madden NFL games have been consistent for several years now. You can expect EA will release Madden NFL 19 in August 2018. EA has recently confirmed its plans for E3 2018, in which it has confirmed which games will be at the show.
We researched the release dates for the last 6 Madden video games. You can check them out below.
Madden 18 Release Date – Friday, August 25th, 2017
Madden 17 Release Date – Tuesday, August 23rd, 2016
Madden 16 Release Date – Tuesday, August 25th, 2015
Madden 15 Release Date – Tuesday, August 26th, 2014
Madden 25 Release Date – Tuesday, August 27th, 2013
Madden 13 Release Date – Tuesday, August 28th, 2012
Madden NFL 19 Wishlist
1. Missing out on the playoffs because the game doesn't know how the real NFL playoff tie-breaking system works.
2. Seasons where a player on your team leads the league in sacks but isn't on the league leaders' list because he's not in the top 200 in solo + assisted tackles.
3. League stats that don't scale to the minutes per quarter you've set, so you're always at the top of the league in team defense and bottom of the league in team offense because you're playing 7 minute quarters while all of the CPU teams are playing 15 minute quarters.
4. Drafts where a player ranks as the 21st MLB in the bench press when there are only 17 MLBs available in the whole draft.
5. Drafts where you look to see which WR had the best 40 time at the combine, and you discover that no WR is listed as having the best time because the list starts at #2.
6. Scouting 2 LTs, both with a 2nd round projection, seeing they have identical grades in identical traits in identical order, but one has 2nd round talent and the other has "undrafted" talent.
7. Draft after the draft where you get to the middle of the 2nd round, and there are only a handful of players left with talent projections better than the 4th round. The draft grading system has to be relative to the players IN THAT DRAFT. If there are more players available to draft than the 224 total picks, there have to be a minimum of 32 players with projected talent in each round, or else the math doesn't work. How can you have a draft where all of the players projected to go in the first 3 rounds are gone by the 10th pick of the 3rd round? Someone has to be the best-undrafted player available.